Image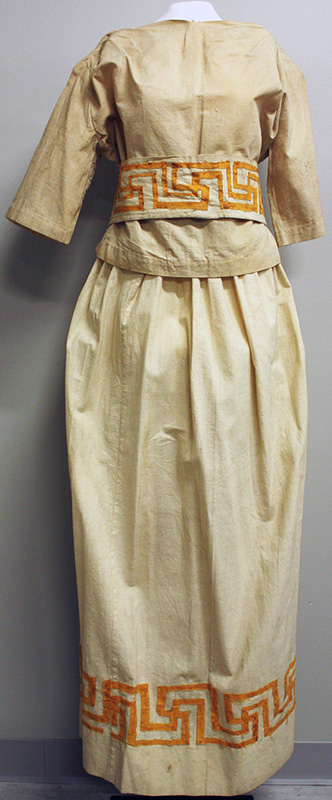 Recently added to the collection of the National World War I Museum and Memorial is a piece of the Memorial's own history. The morning dawned on Nov. 1, 1921 with great expectations in the air. The site for the future Liberty Memorial was to be dedicated. Much pomp and circumstance was planned and one activity, while it might seem very quaint and innocent in present day, was very moving and as described was to help "Kansas City keep faith with the fallen."
The Kansas City Journal reported on the plans the day before: "With the lighting of the Flame of Inspiration by President R.A. Long of the Liberty Memorial Association, ten girls, robed in white and wearing Liberty caps, and bearing wreaths representing equality, justice, wisdom, freedom, truth, patriotism, sacrifice, victory, liberty and peace, will proceed from the bridge connecting the altar with the exedra [seating platform for dignitaries] and deposit the wreaths about the altar.
Simultaneous with the depositing of the [laurel] wreaths at the base of the altar, a girl similarly attired will ascend to the tribune and release a white dove of peace." A change in their headwear occurred on Nov. 1 and the Liberty caps were not worn.
The Kansas City Star reported the next day that "'the Vestal Virgins,' in snowy robes peaked by shining raven and golden strands of waving hair, started their procession to the altar." In ancient Rome, a virgin consecrated to Vesta and vowed to chastity, sharing the charge of maintaining the sacred fire burning on the goddess's altar. Such high demands were not placed on the young women from Kansas City who took part in the site dedication ceremony, but the solemn meaning was the same.
One of those young women was Bernice Rutherford and her "snowy robe" was recently donated to the National World War I Museum and Memorial by her daughter, Karen Van Voorst Turner.
The other Vestal Virgins were: Delores Dreyfoos, Hester Niswonger, Mary Agnes Patterson, Edith Landis, Beatrice Clark, Edna Helm, Helen Jacobs, Ruth Bird and Riva Cluff. The girl who released the Dove of Peace was Elizabeth Burton. The young ladies were excused from their schools on that auspicious day. They were chosen, the Star reported for "their strength, physical endurance and poise." Bernice Rutherford (Van Voorst Hanback) went on to support many public activities in Kansas City throughout her life.
The Site Dedication in 1921 brought together for the first time in history five main Allied military leaders of the World War: General Jacques of Belgium, General Diaz of Italy, Admiral Lord Beatty of Great Britain, General John J. Pershing of the United States and Marshal Foch of France. General Diaz took special notice of the Vestal Virgins and passed down the aisle between them grasping the hand of each one and giving them warm greetings. The warmth was needed for they stood in their cloth gowns, wearing sandals and with no head coverings for hours.
The Vestal Virgins are also featured in the Site Dedication mural by Daniel MacMorris in Memory Hall at the Museum. Bernice's daughter, Karen, wore the outfit as a model for MacMorris' mural. He used the photograph of Bernice's face to complete the image.