Volunteers make the difference
Volunteers play a vital role in the operation of the National WWI Museum and Memorial. The Museum and Memorial relies on the dedication and commitment of more than 500 volunteers each year. Volunteers contribute more than 57,000 hours of service each year, sharing their knowledge, skills and talents.
Image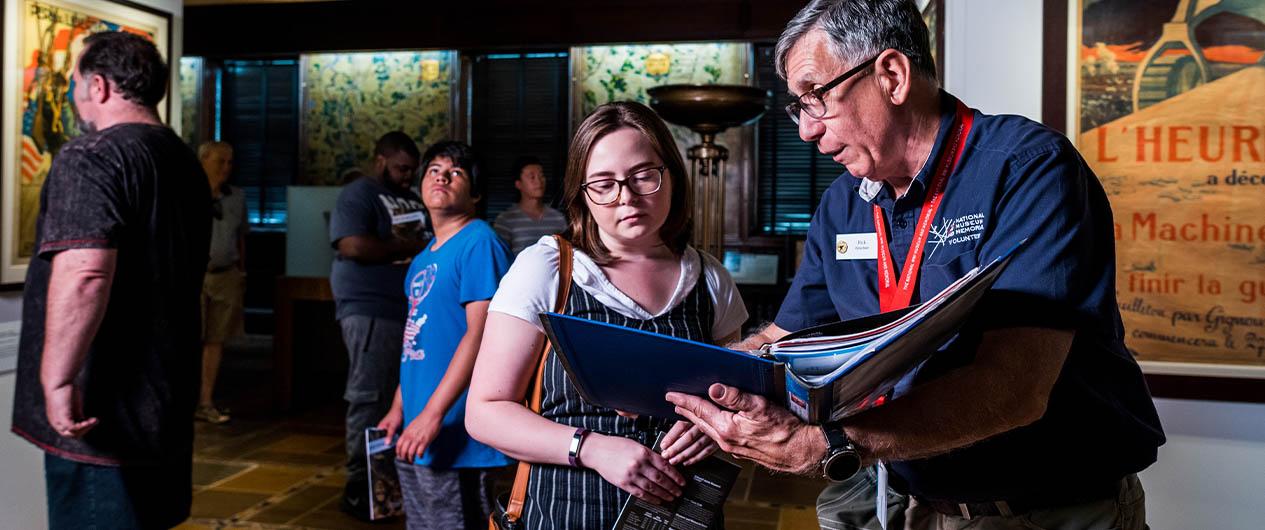 The Museum and Memorial needs friendly people age 19 or older who can commit to at least 8 hours per month.
Schedules are flexible and usually last 4 hours (for example: 9:30 a.m. - 1:30 p.m. or 1 - 5 p.m.).
All volunteers are required to attend a basic orientation, safety training and on-the-job training modules. Specialized areas require additional training.
Volunteers receive:
20% discount in Museum Store
25% discount in Over There Café
Invitations to special exhibits and events
Free Family Membership after 100 hours of service in one year
Annual Volunteer Appreciation Reception and other volunteer events
If you are interested in becoming a volunteer and meet the qualifications, please submit an application online today. Qualified applicants will be contacted. Basic orientation occurs 4-6 times per year.
Guest Services Volunteers:
Greeters welcome guests at entry, provide orientation of facility and services and assist guests in finding their way to ticketing.
Bridge Attendants must pay attention to guest flow, the status of the orientation film, ensure that all guests that enter the Museum and Memorial have a valid ticket and that the proper stub is torn from the ticket. They must also make sure that food or drink is not allowed in the galleries.
Gallery Attendants (Main Gallery, Memory Hall, Exhibit Hall) monitor galleries while providing additional information to guests and maintaining security of collection and exhibits. Gallery attendants must also watch that no food and drink is brought into the galleries and that each guest has the proper ticket.
Tower Operators operate the elevator in the Liberty Memorial Tower and control access to the observation deck.
Edward Jones Research Center Attendants assist the Museum's curatorial staff and are stationed as the library attendant onsite in the Edward Jones Research Center. They assist with administrative duties in the Edward Jones Research Center as directed by staff, process queries from patrons in person, by phone, letter, or email that utilizes our collections.
Administrative Volunteers assist with projects in administrative offices and in-office functions as needed. Tasks include assisting the Development and Marketing departments. 
Special Events Volunteers will be assigned on an "as needed basis" by the Events Manager for a wide variety of scheduled events and activities. Events may be scheduled during evenings and weekends, as well as weekdays.
Volunteers must complete a minimum of 100 hours in Guest Services before applying for the following positions:
Interpretive Corps facilitate learning experiences for school and tour groups and assist with outreach opportunities. Looking for more? Check out information on becoming a Living History volunteer.
Team Leaders assist the Volunteer Coordinator with administrative, training, recruiting, and supervisory duties on a daily basis.
Security Volunteers (VIPS) assist in the Security Department to monitor cameras, answer department telephone and contact appropriate Emergency Services (911). They may utilize department radios, provide public service and guest service presence, patrol Museum interior on foot and perform administrative/special projects duties as assigned.