Image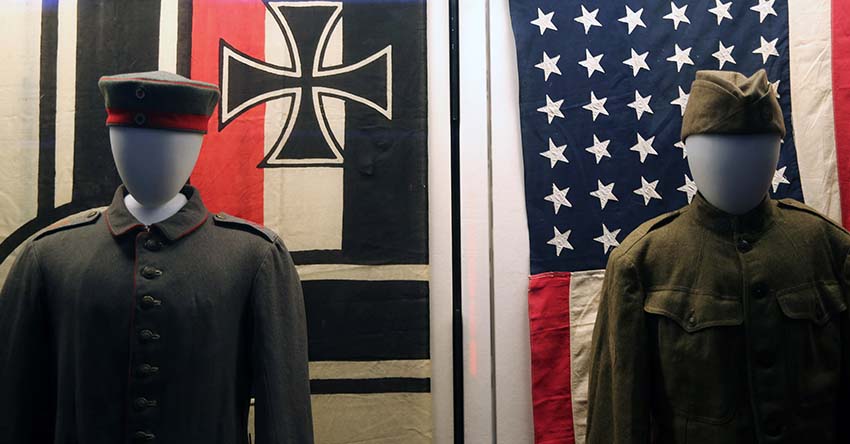 It is always exciting when the Museum receives a donation with an incredible story. While the objects in the donation might seem familiar, it is the history which accompanies this recent acquisition that makes it compelling.
According to primary records, an article in the Waterbury, Conn., Sunday Republican magazine on March 29, 1970, notes that Christian Celius Nicolaisen was born of Danish parents in German occupied territory in Skoolburg (Skodberg), Slesvig. He went to German schools and was under compulsory German military service when he came of age.
When World War I started, Christian was assigned to the Imperial German Army's 86th Regiment of Fusiliers, 18th Division, also known as the Queen Augusta Victoria Regiment. He stated later that he hated everything about his service in the German Army. He learned of his brother Soren's death on the Eastern Front in 1915 and soon Nicolaisen decided to desert to Denmark. Nicolaisen later said, "I managed to get a three-day pass in the fall of 1915 and decided to catch a train north from Hamburg. I couldn't confide in anyone and had to go in full uniform."
A relative in Denmark gave him civilian clothes and, after several weeks, he wrote his other brother Jens in Bridgeport, Conn., and decided to go to the United States. Maneuvering through Danish check points and bureaucracy, he finally sailed aboard the Scandinavian-American liner Frederick VIII. Fourteen days later, he went through Ellis Island and soon traveled to Bridgeport. The U.S. entered the war in April, 1917 and by October, Nicolaisen had been drafted and was sent to Co. B, 504th Engineers. He returned to Europe as a private in the American Expeditionary Forces and served as a mechanic until returning to the U.S. in June 1919.
While it cannot be completely verified at this time, Nicolaisen was certainly one of a few, if not the only man to serve in the German Army followed by the American Army in World War I.
The donation from his great-nephew, Donald R. Hurd, of Billings, Mont., features Nicolaisen's Imperial German tunic with shoulder straps for the 86th Fusiliers, his feldmutz (soft cap), his GeW 98 rifle dated 1906, and other accoutrements hidden in Denmark for many years. The accession also includes his U.S. service coat with Advance Section Service of Supply shoulder sleeve insignia, collar disc insignia for the National Army 504th Engineers and his mechanic insignia on the right sleeve.
This donation and incredible story of one man's unique war-time experiences illustrates again the importance of the collections and the exhibitions of the National World War I Museum.