The task of feeding soldiers during WWI was enormous and the logistics staggering. For the first time in U.S. history, a trained military unit was responsible for supplying the troops. In prior conflicts, contractors did most of this work, but during WWI the responsibility fell to the Quartermaster Corps. The Quartermaster Corps had numerous functions and supplied everything from personal equipment, horses, ammunition, automobiles, laundry and bath services to one of its most important functions: food.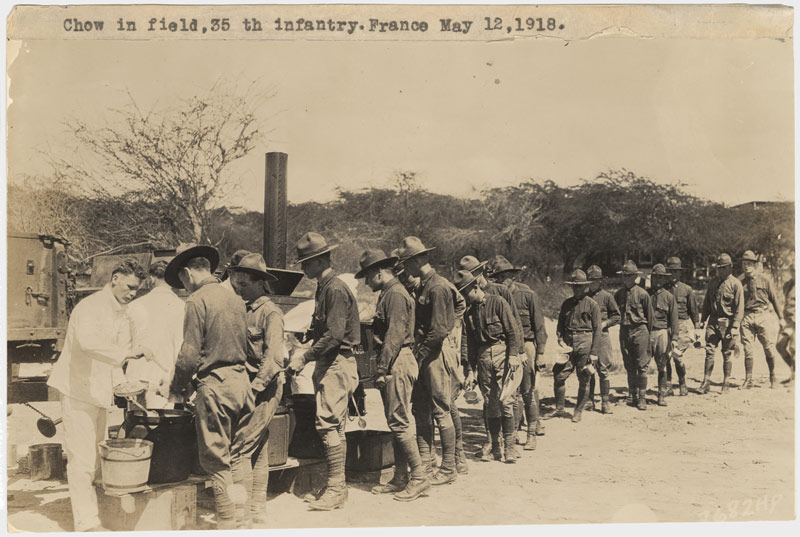 By the end of the war, almost 900,000 tons of foodstuff had been shipped from the U.S. to the Western Front. Upon arrival, food was loaded onto trains and transported to distribution points throughout France. From there, it was moved to various units by wagon trains or trucks. It took approximately 70 trucks to move rations for one Division.
Once rations were received by a Division, the Subsistence Officer oversaw distribution. The Division Subsistence Officer was also responsible for examining the Division Strength Report to determine the number of rations needed, return unused rations and to properly file all records. These tasks required the assistance of five sergeants, each responsible for the issue of beef, bread, potatoes and dry rations, while the fifth was in charge of the records.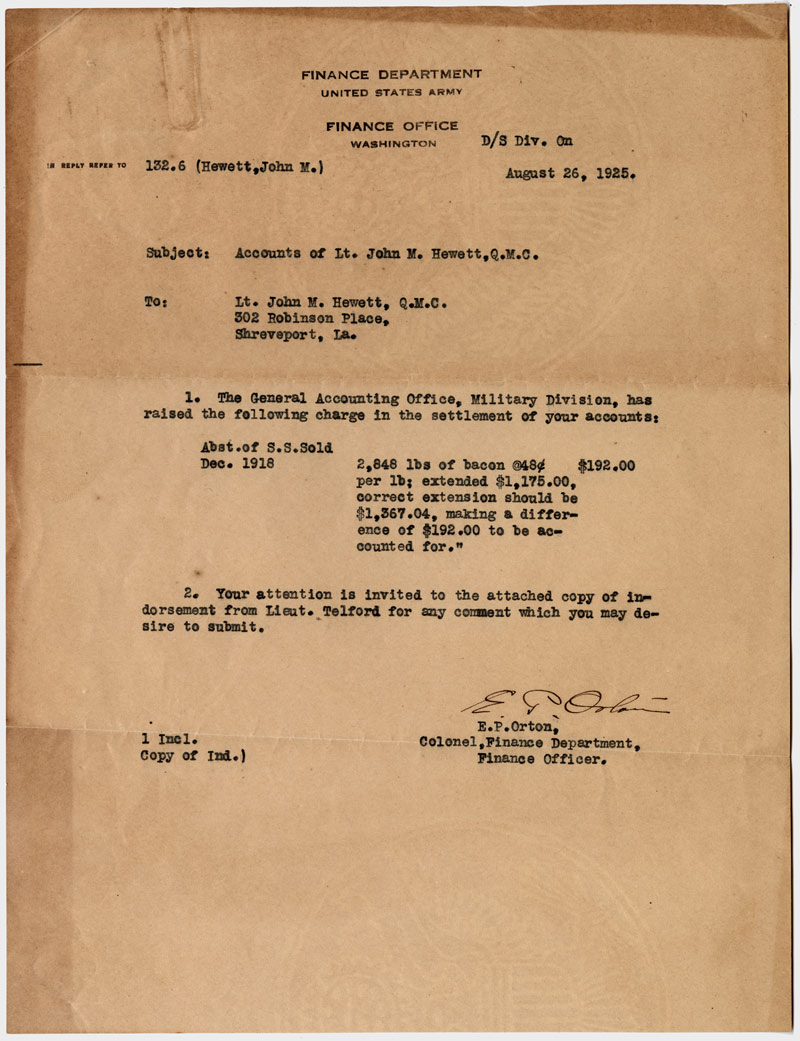 A recently donated collection item highlights the importance of record keeping within the Quartermaster Corps. 2nd Lieutenant John M. Hewett served as the Disbursing Officer, Quartermaster Corps at the American Camp (a hospital center) in Allerey, France. In a letter dated Aug. 26, 1925, the Finance Office of the U.S. Army notified 2nd Lieutenant Hewett of an error on his account from December 1918. He had ordered 2,848 pounds of bacon, but he did not make the proper payment at the time and owed $192. Almost 7 years later, and ration records were still under review! Further correspondence shows that 2nd Lieutenant Hewett's account was moved to settlement with no balance. We do not know how the accounting error was solved, but 2nd Lieutenant Hewitt's bacon was saved.