Image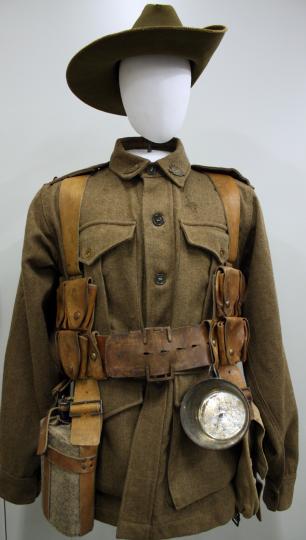 When the Australian Imperial Force was formed soon after the beginning of World War I in August 1914, a mobilization not only of men and women to serve on the war front and the home front had to occur, but also that of uniform, equipment and arms manufacturers. When the first Australian soldiers reached Egypt in late 1914, they were outfitted much like a recent acquisition to the Museum illustrates.
The Australian service dress jacket was made of Australian wool and its loose fit, in contrast to the British service, gave the wearer more allowance for movement. The four large pockets were very useful. A unique feature designed for comfort was the pleated back, which provided a double thickness of cloth down the back that the pack rubbed against. Breeches were corduroy worn with wool wrap puttees. The khaki felt slouch hat or early service cap is probably the most distinctive part of the uniform. The "Rising Sun" insignia on the collar and the fold of the slouch hat was distinctive to the Australians.
Regulation or standard uniforms were often adapted to fit environmental or weather conditions or totally abandoned. This was true among the British Commonwealth troops at Gallipoli, especially among the ANZACS (Australian and New Zealand Army Corps).
The equipment pack was known as the Pattern 1915 Australian leather equipment which included the ammunition pouches, belt, haversack, back pack, canteen, mess kit, entrenching tool and carrier and even the soldier's drinking cup. Much of the equipment is marked C.G.H.F. for the Commonwealth Government Harness Factory.
This acquisition greatly expands the Australian material culture within the National World War I Museum's collection.