Christmas observances occurred throughout World War I, even on the battlefield.
Likely the best known incident would be the "Christmas Truce" - a spontaneous truce on Christmas Eve 1914 which happened along parts of the Western and—to a much smaller extent—Eastern Fronts.
There were numerous eyewitness accounts, retold in letters:
"On Christmas Eve (1914) there was a lull in the fighting. The Germans had a Christmas tree in the trenches," Wrote gunner Herbert Smith, 5th Battery, British Royal Field Artillery. An unidentified German soldier later wrote in a letter home, "Christmas 1914 – Suddenly a man from my company reported: 'The English are letting off fireworks.' And sure enough across the way from us the enemy trenches were lit up with fires and rockets and so on. We then made up a few banners reading 'Happy Christmas!' with a couple of candles behind and a couple on top."
And from a Belgian soldier, "At midnight a baritone stood up and in a rich resonant voice sang, 'Minuit, Chretiens.' The cannonade ceased and when the hymn finished applause broke out from our side and from the German trenches!"
Though no sources show similar spontaneous truces occurring after 1914, celebration around holidays remained. On Christmas evening 1915, German soldier Ernst Bergner of the 143rd Infantry Regiment recalled looking for a Christmas tree for "without a tree there is no Christmas. It's a wonderful winter day, there is a rare silence over the Front."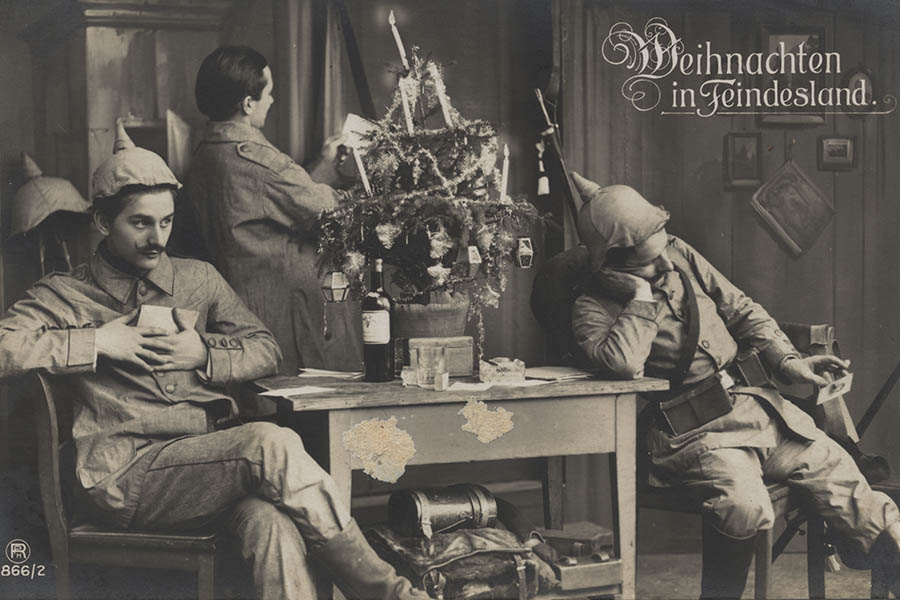 C.H. Williams of the Oxfordshire and Buckinghamshire Light Infantry, British Army described his Christmas dinner of 1916 in an old sewing machine factory in Albert, France on the Somme lines. They "had beer for our dinner—plenty of it—and a good tuck-in to go with it! Roast pork! Beautiful after bully beef!"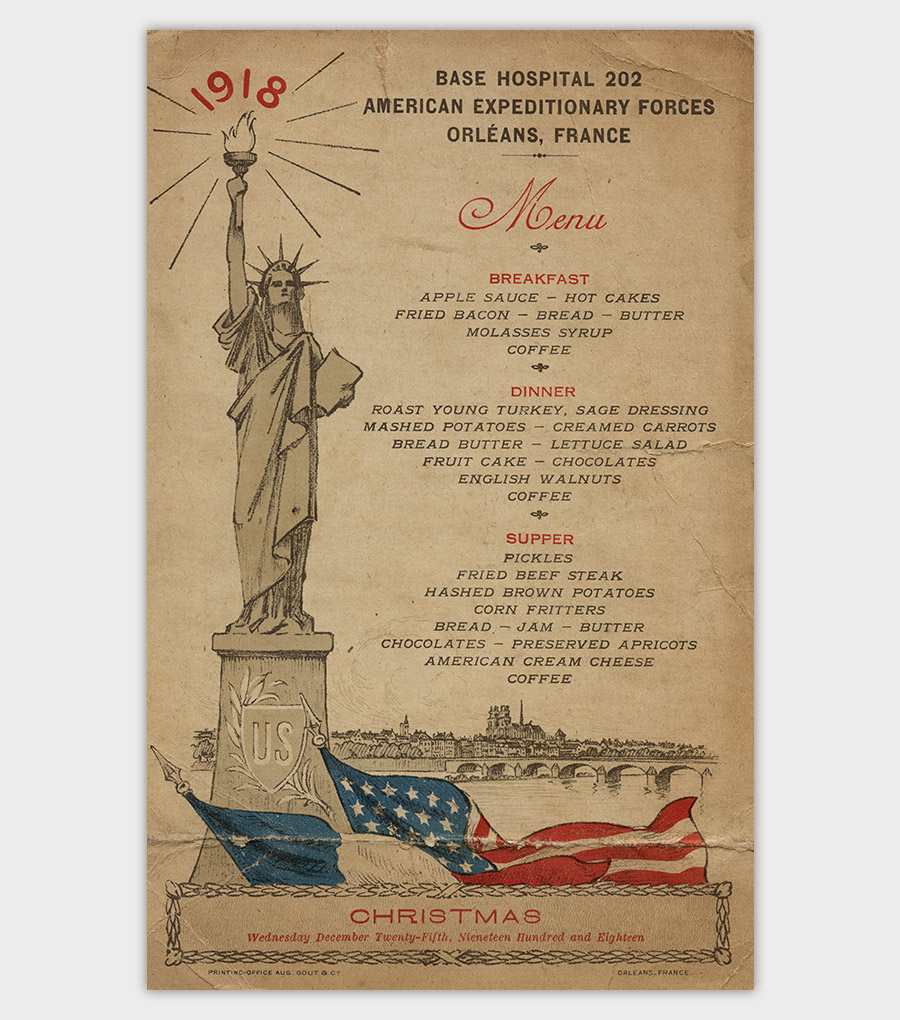 But of course, the Christmas spirit during the war reached beyond the battlefield.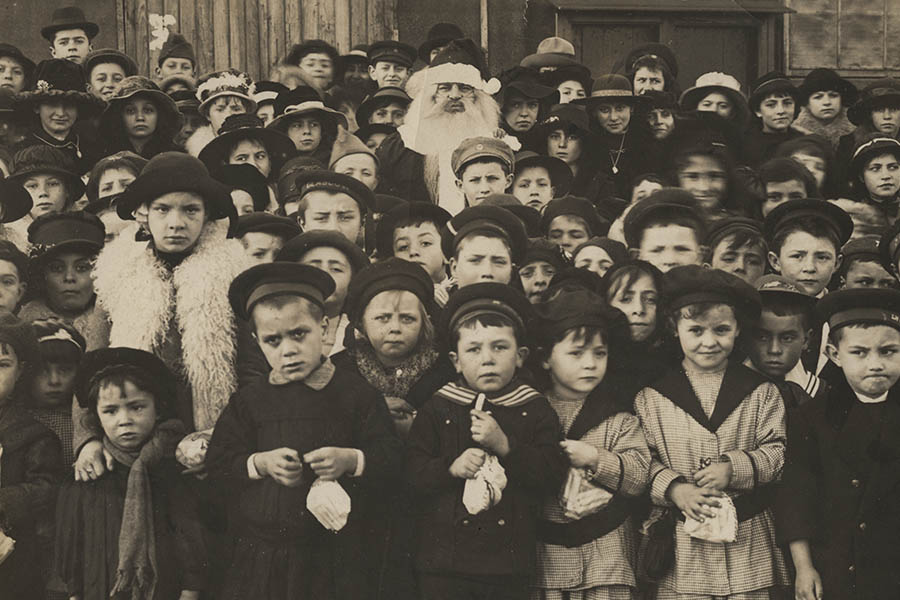 More than 35,000 individuals served in the Y.M.C.A. entertainment operations at home and abroad. Don Guthrie was one of these Y.M.C.A. workers, and his Santa costume now resides at the Museum. The outfit—made up of a painted paper mask, wispy cotton beard, and a red cloth cap, coat, pants, cape and belt with matching gift bag—may have seen better days, but its age and wear show its well-loved history.
An interesting detail: the costume's Santa mask, made before 1914, is stamped Made in Germany, one of many small ironies of the conflict.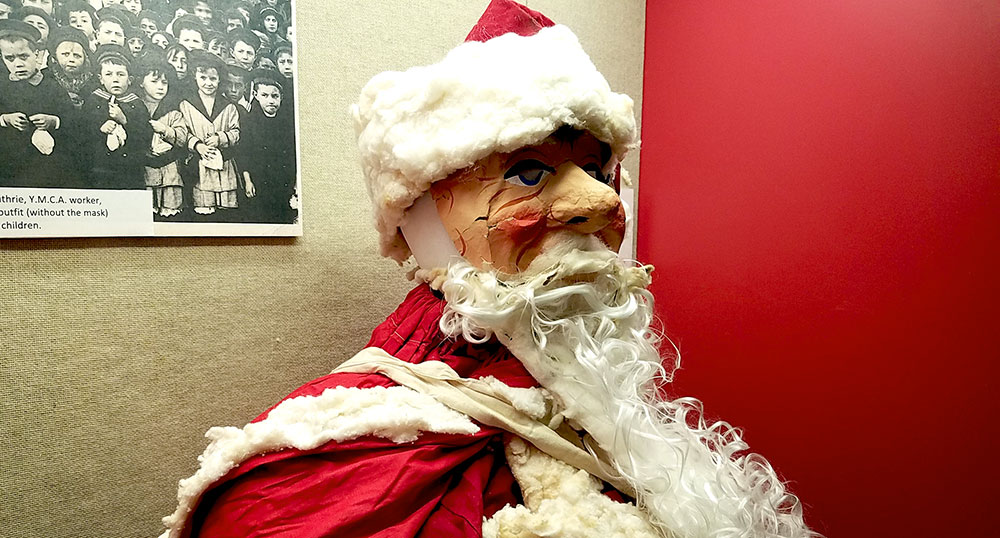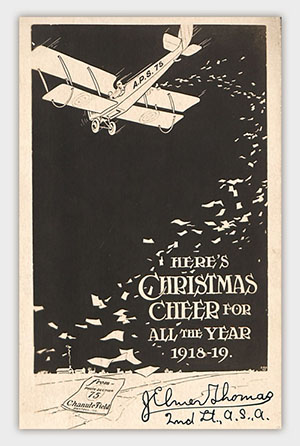 During the Allied occupation of Germany following the Armistice, American troops in Coblenz raised a Christmas tree in front of the Government building. Placing long strands of lights on the pine tree, it soon lit up the area after dusk. As music enveloped the large crowd of soldiers and German civilians, a festive air was made more so when the children received paper trumpets and other goodies pulled from soldiers' pockets. For the first time in years, the windows of the Government palace were also lit and a lighted cross placed on top of the building.
A soldier, Sergeant 1st Class Charles Stevenson from Olathe, Kansas, wrote about that Christmas in Germany: "Just a few feet from me are members of a typical German family, throwing up a tiny Christmas tree, decorating it thoroughly in accordance with all respect due to the famed Christmas tree."
Want to learn more? Go in depth and explore wartime celebrations of the holidays through the Museum's Online Collections Database, where you can view photographs, letters, posters, and more primary documents from the war.