Saturday, June 25, 2022, 5 p.m. - 8 p.m.
We raise our glasses again on the historic lawn of the National WWI Museum and Memorial, and tap our toes against the backdrop of the spectacular Kansas City skyline!
This summer, plunge with the swinging cats of the Mutual Musician's Foundation Trio with featured vocalist Love Mae C. into the glamorous Continental madness of le jazz hot, while presided over by the indomitable spirit of French and American icon Josephine Baker – or as the French simply know her, "La Baker."
"… I improvised, crazed by the music … Even my teeth and eyes burned with fever. Each time I leaped I seemed to touch the sky and when I regained earth it seemed to be mine alone."
—Josephine Baker
When:
Saturday, June 25, 2022, 5 p.m. - 8 p.m.
Where:
North Lawn of the National WWI Museum and Memorial, overlooking Union Station and the city skyline.
What to bring:
Your ticket
A decadent picnic spread, or one of our ready-made picnic kits
A discerning eye for the silent auction
The carefree abandon of the Charleston, Charleston!
Your ticket includes:
A 10' x 10' Picnic Square space on the lawn, allowing up to four (4) attendees per square
Admission to the hottest Jazz Age lawn party in town
A three-hour concert with the Mutual Musician's Foundation Trio with featured vocalist Love Mae C.
The opportunity to support the future of the National WWI Museum and Memorial through unique auction items
Free parking
Tickets are $55 - $150 per square for Members
$80 - $175 per square for Non-Members
Not a member? Join here!
Image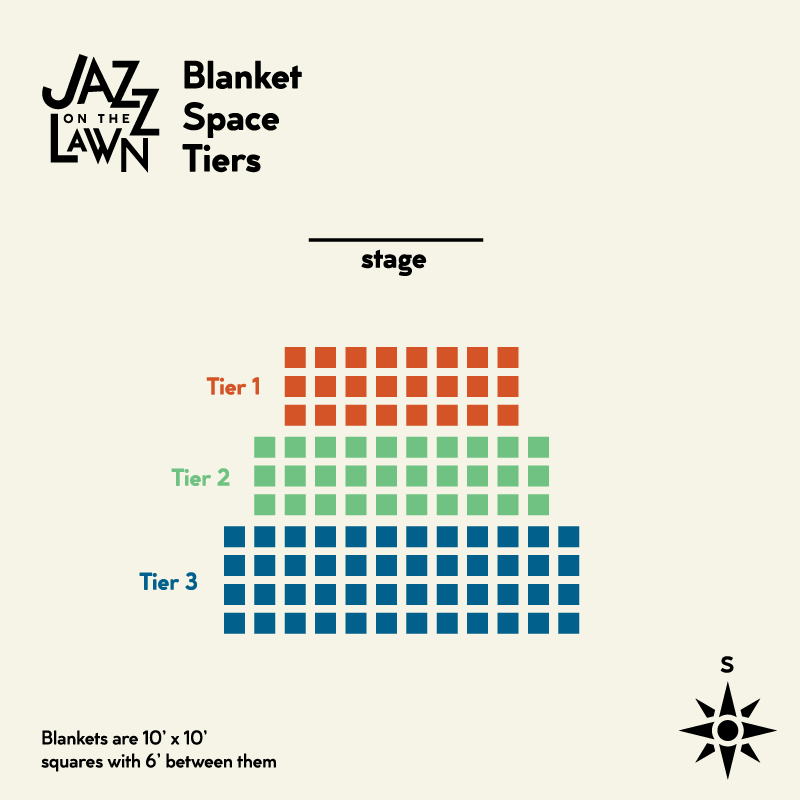 Party Details:
Ticket prices are per Square – so for a $55 Square with four attendees in it, the cost breaks down to $13.75 per person!
10' x 10' Picnic Squares will be pre-painted on the lawn and placed 6' apart.
Picnic spaces are first-come, first-served within each pricing Tier. Arrive at 5 p.m. to pick your spot!
Bring Your Own Blanket
Bring Your Own Cocktails
ADA accessible
Outdoor restrooms will be available
Attire:
Stay cool while you dance the evening away in summer cocktail dress.
Ready-made picnic kits:
Spend less time prepping and more time enjoying yourself!
Step one: order one of these stylish and soft sweatshirt blankets from the Museum Store, to be picked up at the event. Perfect to spread out on the North Lawn for truly fashionable picnicking. (Members, remember that you get a 10% discount in the Store!)
Step two: order a pre-prepared charcuterie spread from SpreadKC (shop local!), also to be picked up at the event. The perfectly lavish picnic-in-a-box and the ideal pairing with one of our blankets.
And that's your easy, breezy picnic taken care of!
Rain Date
Sunday, June 26, 2022, 5 p.m. - 8 p.m.
"If an orchid could sizzle, it would be something like Josephine Baker."
—LA Examiner
Born in St. Louis in 1906, Baker endured racist violence and discrimination before she had enough and upped stakes to glittering Paris. She carried that fighting resolve with her through a life of stardom, wartime resistance and civil rights crusading, and now over a century later, we live in a changed Missouri thanks in part to the trails she blazed. In recognition of her groundbreaking work breaking down barriers, the funds raised at this year's Jazz on the Lawn will be invested in continuing to increase access to the Museum and Memorial's collection.
Sponsor
Image

Partner
Image