The Museum and Memorial is committed to making its collections, buildings, programs and services accessible to all audiences.
We welcome your feedback as we continue to learn how we can improve accessibility. Please contact us at info@theworldwar.org or 816.888.8100. 
Guests may bring their own mobility assistance vehicles into the Museum. Guests using mobility assistance are responsible for any damages caused by the operation of the vehicles. The Museum and Memorial also has wheelchairs for use as needed that can be checked out at Guest Services.
The galleries of the National WWI Museum and Memorial are accessible to people with mobility limitations, such as wheelchair/powered cart users and other visitors who need to avoid stairs. Unfortunately, the Liberty Memorial Tower, a historic landmark that opened in 1926, is not wheelchair accessible. To reach the top of the Tower, one must ride an elevator and then climb an additional 45 steps.
All videos throughout the Museum and Memorial are closed captioned. Assistive listening devices are also available for programs occurring in the Museum and Memorial's Auditorium. For additional information on accommodations for public programs, including requesting an ASL interpreter, contact us at education@theworldwar.org. Requests for interpreters must be made at least two weeks in advance.
Acoustiguide Audio Guide players are free for visitors who are blind or visually impaired.
Visitors can also access a "Touch" Gas Mask Bag that contains real WWI artifacts from the Museum and Memorial's non-accessioned collections. The objects are meant to be touched, held and explored to gain a better, more personal understanding of the past. To incorporate this feature into your visit, simply ask a volunteer or staff member upon arrival. For additional information contact us at education@theworldwar.org.
The National WWI Museum and Memorial has partnered with KultureCity® to enhance our ability to assist and accommodate guests with sensory needs. Our goal is to provide an inclusive experience for all guests during all events. We strive to raise awareness of the needs and challenges faced by individuals with sensory processing needs by supplying our staff with annual training and by offering the resources and accommodations below to our guests.
KultureCity® Sensory bags containing special KCVIP badges, feeling thermometer, fidget tools, and noise-canceling headphones are available for checkout (at no cost by leaving an ID) at Guest Services (Monday-Thursday) and the Ticketing counter (Friday-Sunday).
Weighted lap pads are available upon request (at no cost by leaving an ID) at Guest Services during the week and at the Ticketing Counter Friday-Sunday.
Quiet areas are located on the Main Level in Wylie Gallery Lobby and on the Lower Level outside of the R.A. Long Learning Center.
Headphone Zones (loud areas) are located at the introductory film, Horizon Theater, and the crater.
There are elements of the Main Gallery and some special exhibitions that include sensory experiences, such as flashing lights and sounds of warfare. In these areas of the Museum, guests will find signs from KultureCity® indicating a warning for those with sensory needs.
Yes, the Museum and Memorial welcomes service dogs and miniature horses in their roles as service animals. All other animals and pets are prohibited from being inside any buildings on the Museum and Memorial complex, including the Liberty Memorial Tower.
Reserved, van-accessible parking spaces are available at the North end of the U-Shaped Drive, as well as in the West Visitor's Lot, which is accessible from Kessler Road or Memorial Drive. Parking is free at the Museum and Memorial.
Contact Us
As we strive to improve the accessibility of our facilities and online presence, we welcome your feedback. Please tell us how we can improve access to the Museum and Memorial resources for you. Email us at info@theworldwar.org or call us at 816.888.8100.
Image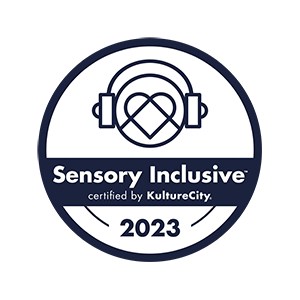 The National WWI Museum and Memorial has partnered with KultureCity® to enhance our ability to assist and accommodate guests with sensory needs, and provide an inclusive experience for all. Visit our KultureCity venue page