Image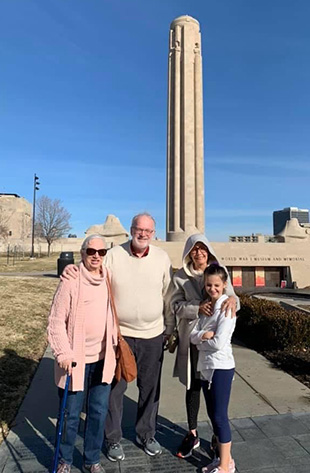 These are a few words that describe Walt Peters: kind, thoughtful, well-spoken and passionate about history and the world around him. His ability to consume and interpret the events around him to create compelling stories is remarkable. This is true not only when it comes to his own life, but the lives of those who came before him.
"The First World War is actually the maker of the world in which we live today," Peters explains. "If you want to learn about the world around us, it started 100 years ago. The history of that era still has a bearing on the world we live in."
Peters' fascination with history and how the wars we have fought have directly affected contemporary society stems from a desire to learn about his own family's history. A self-described semi-retired minister, Peters has been interested in genealogy for several years, and through that hobby has learned about the family's rich military history. Peters was one of the last people inducted into the U.S. Army via the draft and spent two years serving. His parents were U.S. Marines who met when they were stationed in California, marrying in 1946 after both were discharged. His grandfather and his four brothers all served, one of whom Peters was named after. One of the brothers, Lt. Eugene Irish, was part of the famous "Rainbow Division" in Alabama and was killed in action, but Peters didn't know much about what happened to him.
"I knew Eugene was killed, but I didn't know where or how or when. The Edward Jones Research Center has been great – the volunteers there are very knowledgeable," he says.
He currently lives in Maryland with his wife, Rebecca, but they make their way to Kansas City whenever they can to see family and to pay a visit to the Museum and Memorial. Peters believes in the importance of the Museum and Memorial as a way for history to be preserved and for people to learn where we have been, and where we should go.
"My wife and I believe in the historical and educational mission of the Museum and Memorial and we want to support it," Peters says. "It's not just a museum, it's also a memorial. The people that gave their lives in that conflict deserve to be remembered and honored, and I think the Museum and Memorial does that."
Peters has bricks in the Museum and Memorial's Walk of Honor dedicated to his two parents, Sgt. Elizabeth Irish Peters and Capt. Walter E. Peters; his wife's father, Carpenter's Mate 2 Burl Callaway; his grandfather PFC Shurly Irish; his four great-uncles Lt. Eugene Irish, Lt. Harold Irish, Sgt. Philip Irish and Sgt. Charles Irish; and his great-great-grandfather Sgt. Isaac Palmer Blakemore, who was a POW during the Civil War.
"We can keep putting bricks in, and we will. These are ordinary Americans who served and it is a great way to honor that service," Peters says of the Walk of Honor, specifically noting his mother's brick. "Nobody knows Elizabeth Irish from Adam's housecat, but she deserves to be honored."
Peters purchased the bricks in an unusual and interesting way; the couple's financial advisor suggested that they use stock that they inherited to pay for their bricks. It allows them to make somewhat larger gifts and donations than they would have been able to give if they had used cash.
Besides trips to the Museum and Memorial to learn more about his family history and the history of the war, and to honor his family members' service, Peters' love for gaining new knowledge also leads him to the Museum and Memorial gift shop. The book section is always calling his name.
"I can hardly wait to get back to visit so I can get back into the book section!" he says. He is waiting for the day that traveling is safe so he can see his family and visit his favorite place in Kansas City in person again.
For more information on membership and Walk of Honor bricks, please contact Sarah Foltz, Annual Giving Manager, at 816.888.8129 or members@theworldwar.org.