As Vice President of Finance at the National WWI Museum and Memorial, Mark Gunter plays a key role in the success of the organization. But for Mark, his connection to the Museum and Memorial runs deeper than just a workplace.
Mark's father grew up nearby and visited the Memorial throughout the 1930s and 40s. His family loves national parks, monuments and historic sites, so having the Memorial close by has special meaning for them. Like many Kansas Citians, Mark grew up visiting the Museum and Memorial on school field trips and visiting the Museum store during the holidays.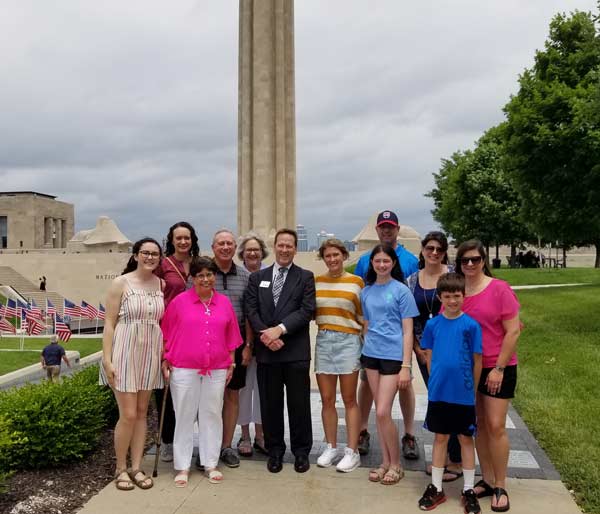 In 2010, Mark bought his first Walk of Honor brick to honor his uncle, who served in Vietnam. In addition to a second brick, the Gunter family dedicated a bench on the southeast corner of the Museum and Memorial campus to Mark's father, Bob Gunter. The bench overlooks the BMA Tower (now One Park Place) where Mark's father worked for 35 years, as well as his boyhood neighborhood and downtown Kansas City.
"The National WWI Museum and Memorial is emblematic of the City leaders' foresight and vision," said Mark. "Establishing and maintaining this great facility as Kansas City's front porch and a beacon for courage, honor, patriotism and sacrifice is a real example of the love we feel for our community. It is demonstrably a world class institution, worthy of the accolades it earns, the donations it receives, and the volume of visitorship it enjoys."
Mark joined the Museum and Memorial staff in 2013 and feels honored to work at what he considers the preeminent nonprofit in the Midwest. In 2018, Mark was named Kansas City Business Journal's CFO of the Year. We are grateful to Mark for everything he does for the Museum and Memorial!