Joan Barkley Wells has lived in the Kansas City area all her life. Considered one of the Museum and Memorial's most valued supporters, Joan's personal efforts and community work with the Woman's City Club assisted the Museum and Memorial in objects acquisitions' funding. She continues to be a financial donor to the Museum and Memorial. Most notably, Joan has placed the organization in her estate plans, specifically the Collections and Acquisition Fund. Honoring her father's memory, this generous gift qualifies Joan to be a Founding Member of the Pershing Legacy Society.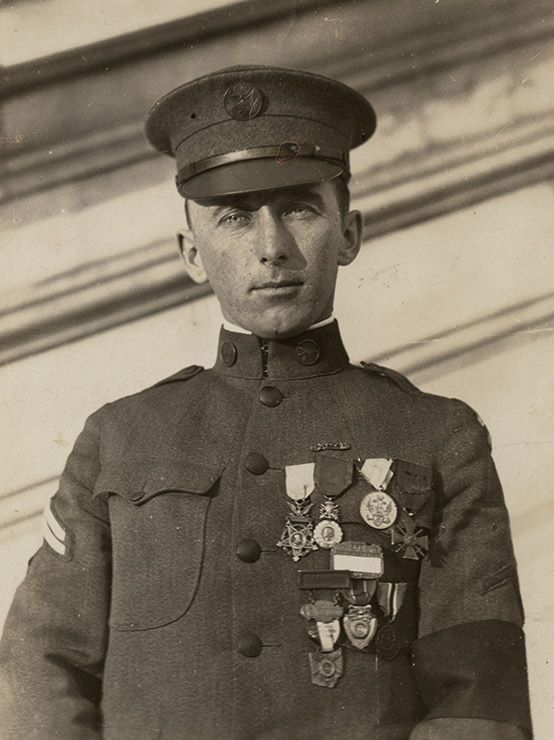 John Lewis Barkley (Aug. 28, 1895 - April 14, 1966) was a U.S. Army Medal of Honor recipient of World War I. Born in Blairstown, Mo., near Holden, John grew up on a farm and was one of the millions of men inducted into the Army when the U.S. declared war on Germany in 1917.
He went to France with the 4th Infantry Regiment of the Third Division in 1918, and participated as a private first class in the Meuse-Argonne offensive, the largest American military operation of the war. On Oct. 7, in fighting near Cunel, France, PFC Barkley, on his own initiative, repaired a captured German machine gun, mounted it on a disabled French tank, and manned it through repeated German artillery barrages and counterattacks, enabling his regiment to gain and hold its objective. For his actions that day he was awarded the Medal of Honor.
After the war, John returned to Missouri, joined the American Legion and Veterans of Foreign Wars, and was active in many veterans' observances. On Nov. 1, 1921 he participated in the site dedication for the future Liberty Memorial across from Union Station in Kansas City. The parade to the reviewing stand was led by Vice President Calvin Coolidge and the commanders of the Allied military forces in the Great War: France's Marshal Ferdinand Foch, U.S. General John J. Pershing, General Armando Diaz of Italy, General Alphonse Jacques of Belgium and Great Britain's Admiral David Beatty. Immediately behind them were automobiles carrying John Barkley and other Medal of Honor recipients, followed by wounded veterans and American Legion members numbering some 25,000 among the crowd of 100,000.
Five years later, on Armistice Day 1926, John was present at the dedication of the completed Liberty Memorial. Coolidge, then the President of the U.S., addressed a crowd of some 150,000, the largest crowd ever assembled to hear an American president to that time, and hundreds of thousands more listened on the radio.
John's memoir of his war service, published in 1930 with the title No Hard Feelings, has been republished and is now available under his originally-desired title, Scarlet Fields.
Both John and Joan served as members of the Museum and Memorial's Board of Trustees during their careers.
When the expanded Museum opened in 2006, Joan made an extremely generous offer to Senior Curator Doran Cart. She offered to donate to the organization an oil portrait of her father in uniform wearing his medals, painted by renowned portrait painter Howard Chandler Christy. Joan also donated a treasure trove of correspondence and objects, including John's Medal of Honor and other decorations and citations. The portrait and medals are now on exhibit in the Main Gallery with other materials in Memory Hall. There is also a memorial brick for John in the Museum and Memorial's Walk of Honor.