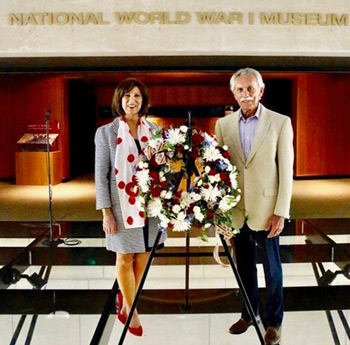 Jerry Foulds and his wife, Katie Van Luchene, have long been committed supporters of the National WWI Museum and Memorial. It's a great source of pride for them. According to Jerry, "I have always been in awe of the Memorial. What an incredible honor and privilege to have such a fine institution here in Kansas City."
Katie added that the Museum and Memorial is at the top of their must-see attraction list when guiding friends around Kansas City. "Every time we enter through those massive bronze doors, we have a feeling of reverence and pride. Although we've toured the galleries dozens of times, we always see something new in the more than 330,000 artifacts in the permanent collection," she says.
Their connection to the Museum and Memorial is personal for both: Jerry's maternal grandfather served in the Army in World War I and was injured in the Argonne Forest. He is commemorated with a brick on the Walk of Honor, alongside a brick that honors Katie's father, a World War II veteran.
Katie and Jerry are looking forward to the return of their favorite events at the Museum and Memorial when it is safe to gather again. They are especially looking forward to the Night at the Tower Gala and Celebration at the Station – the last time they attended the Celebration, the Kansas City Symphony performed at Union Station while they picnicked on the lawn and watched a spectacular fireworks display behind the Memorial. In 2019, Katie and Jerry participated in the Taps at the Tower ceremony by giving the recitation and presenting the floral wreath [pictured above].
In addition to being Night at the Tower sponsors, Jerry and Katie have generously supported the Museum and Memorial in a variety of ways, including many years of Museum membership and annual gifts. They have graciously given the gift of their time, serving on the Night of the Tower Committee, and attending Pershing Legacy Society events, the Centennial Luncheon and Jazz on the Lawn.
For Jerry, the Museum and Memorial serves a higher purpose. He says that the Museum and Memorial allows us to gain a deeper understanding of why such cataclysmic events happen, so we can make every effort not to repeat them.
"America, and the world, was hopeful that the 'Great War' would be the war to end all wars. How sad it is that the original description of this horrible conflict was destined to be appended as the 'first.' This Memorial and Museum with all of its artifacts and archives is something all young people should experience and absorb." — Jerry Foulds