Image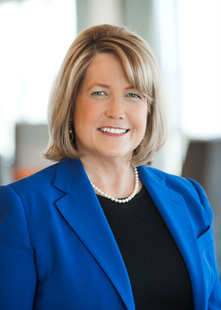 In November 2020, Elaine Drodge Koch began serving as the Chair of the National WWI Museum and Memorial Board of Trustees – but her dedication to the Museum and Memorial is far from new.
Years ago, Elaine's interest in history prompted her to begin attending lectures and bringing out-of-town guests to the Museum and Memorial. She then became involved in the Call to Duty Capital Campaign Committee, which played a key role in the success of the $25 million campaign. Call to Duty led to the creation of the Wylie Gallery, several education initiatives, expansion and digitization of the Museum and Memorial's collections, renovation of the auditorium, an expansion of staff, an upgrade of software platforms and more.
In 2014, she chaired the organization's newly established Business Roundtable, which encourages businesses to provide vital support and involvement to the Museum and Memorial. In 2015, she joined the Board of Trustees.
While managing her very successful career as a trial lawyer and many other commitments, Elaine makes sure to take time to enjoy the Museum and Memorial's events and exhibits that first drew her in. Along with attending lectures, she visits special exhibitions and even took a drawing class at the Museum.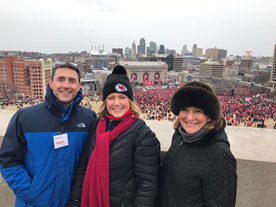 She finds the poppy field inside the Museum's entrance to be incredibly moving and considers the Museum and Memorial a treasure in our city. "It is unique in the world as a World War I Museum that seeks to tell the story of the war from all countries' and all people's perspectives," she says. "And I am a firm believer that we must learn from history or we are doomed to repeat the mistakes of the past."
Elaine feels a personal connection to the Great War through her family's history of military service. Elaine's father served in World War II, and both of her children serve as officers in the U.S. Army, while Steve, her husband of 37 years, has a passion for military history. Elaine and Steve, as well as her company Bryan Cave, are generous financial supporters to the Museum and Memorial.
Her inspiring leadership doesn't stop with the Museum and Memorial. With more than 30 years' experience as a trial lawyer, Elaine is a law partner at Bryan Cave Leighton Paisner. She has been repeatedly named by the Kansas City Business Journal as one of the "Best of The Bar" in the Kansas City area, named a "Super Lawyer" in Kansas and Missouri (including "Top 50 Women" in Kansas and Missouri) and she has been recognized as one of the Best Lawyers in America. Elaine has also been named by USA Chambers as a leader in Labor and Employment.
The Museum and Memorial joins the many other organizations in our community to express our gratitude to Elaine for her unwavering dedication and support!